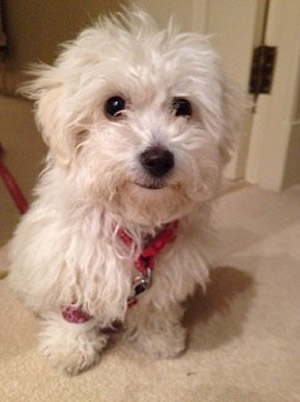 "Citidogs are more than people that looks after dogs.
They LOVE them and that's what makes all the difference. I don't have children so never had the angst and worry that colleagues had when dropping off their little people at nursery or school.
That all changed when I got Muffin! She is my very first dog, ever! And to say that I was a complete novice is an understatement of epic proportions. In fact if I think back now at just how little I knew I probably shouldn't been able to take her – but I did and she is my "baby" so now I really do get it!
From the moment I spoke to Citidogs, I just knew that they were going to become a very important part of my life and they have. They look after Muffin in a way that you'd only really expect family to and in face I now see them as just that – our extended family. I work away, often and sometimes at short notice and I can do this with complete peace of mind knowing she can have a sleep over and that they care about Muffin as much as I do.
They've spotted things my groomer hadn't and even taken her to the vet when she was poorly while I was away – all part of what they do. And they do it in such a fun away – I mean Bark and Ride on the skool bus? Come on! Honestly Muffin absolutely adores the crèche – and misses her friends when she doesn't go.
I would recommend Citidogs and all of the team (especially aunt lynn!) in a heart beat."
Muffin and her mum
---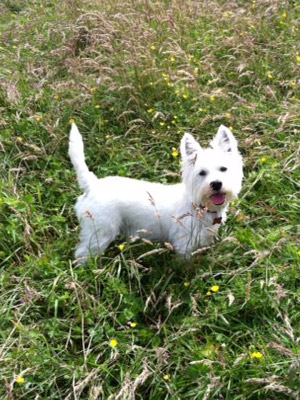 "Archie is nearly 5 years old and has been going to Citidogs Creche since he was a puppy. He gets very excited when twice weekly we say "Citidogs today!".
We chose Citidogs because of its location in the countryside, plenty of space but still within Edinburgh and near our home. We wanted Archie to learn to play and socialise with other dogs in a safe environment. It also gave me the added bonus of a break from all things puppy for a whole day! We initially thought Archie would attend for a couple of months, that was 4+ years ago. He's a Citidogs veteran now and likes to get there early before the 'Bark & Ride' buses arrive so he can cast his eye over the days pupils!
Everything at Citidogs is tailored for the dog's welfare and happiness. The facilities are second to none, various outside areas with lots of space to run, play and enjoy a dip in the paddling pools in summer. Inside play is in the arena or relax on warm doggy sofas in the cuddle corner and enjoy a pampering shower at the end of a hard day. Archie runs around having fun from the moment he arrives and when he comes home he has dinner then sleeps until morning.
The staff at Citidogs are wonderful, they're dedicated, professional and fun with Sandy & Sarah at the helm.
Archie has lots of friends at Citidogs, in particular a great Dane who he shelters under when it rains! His 2-legged friends make a fuss of him with play and cuddles. He also enjoys occasional weekend boarding with lots of fun, being treated as one of the family and generally being spoilt rotten with lovely Lynn, and now known as Auntie Lynn.
Archie's been known to head to Citidogs on his days off. If I let him off his lead in the neighbouring park, he runs straight to crèche. I then walk home on my own!
If you're thinking of sending your dog to Citidogs, I couldn't recommend it enough; your dog will love you for it."
Archie the Westie 🐾 & Susan the owner
---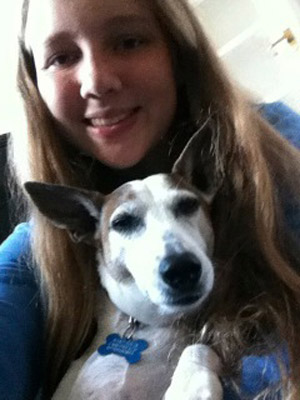 "Bart is a lively Jack Russell.
He loves company and was getting lonely – but he loves Citidogs and goes very happily with the team in the bus.
At the end of the day he comes home very tired and exercised.
The team are fantastic, very flexible and always ready to help with any requests.
I have been really pleased with the service and Bart is one happy dog interacting and playing with all the other dogs.
I don't worry about him anymore."
Morven
---
"I have three dogs at sKOol, Doogal (the big goof) since November 2010, Bobby ( the mud magnet) July 2012 and Midge (busy bee) July 2013. They thoroughly enjoy themselves and I have no doubt that the superb care, attention, cuddles and kisses they receive all day make them well socialised dogs.
They are always exhausted and when collected ready for tea and bed.
An excellent establishment thoroughly recommended to all "parents ".
Douglas E
---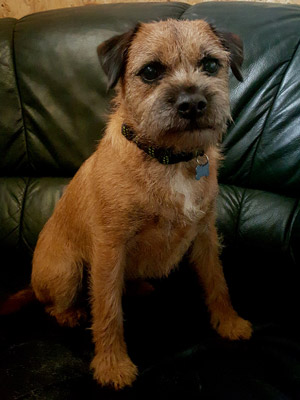 "Our Border Terrier Griff has been going to sKOol at Citidogs since he was a tiny wee pup, he's now three years old and still loves to go there, sometimes two or more times a week.
Because of his early introduction to a variety of pooches, we are very confident of his behaviour around other dogs when he's not at sKOol, he's also really friendly to people and absolutely adores the staff at Citidogs…so much so, that I think he'd stay with them in a heartbeat!
Griff always nearly drags me into sKOol in the morning (due to his great excitement at being there), and is always 'dog-tired' at night when he comes home. Even if we retired & had lots of time to spend at the beach with our 'hairy baby', we'd still let him go to sKOol because he enjoys it so much.
Citidogs have very dedicated staff and always have the time for a chat about how our favourite pooch has been, we think they do a great job and highly recommend them."
Cheryl R
---
"I knew I could only get a large energetic labradoodle if I could find a solution to how he spent his day while I worked so with some trepidation ( as it is so popular) I applied to Citidogs before signing up for him. Rather like a top school application.
Fortunately for both of us he was accepted……came to live with me…. and has attended Citidogs faithfully now for two years. The staff and the service are every bit as good as I had heard, indeed the best.
He is picked up by the SKOol bus, plays all day with friends, even comes home with the winter mud showered off his long haired legs and is blissfully exhausted on return. The vet and I think he is incredibly fit and we both put this down to his daily exercise and excellent care.
Citidogs is run with all the excellent communication and speed of reply that one expects from a good school and I am certain that if he could speak he would tell me he very much likes his teachers and has a few favourite ones too.
Lastly…and firstly…. the manner of the staff who do the job is awesome and highly professional."
McLeod's mummy, Fiona Denyer
---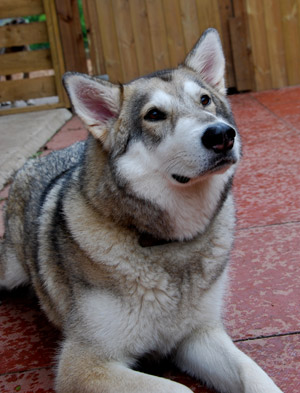 "My dog, Oran, has been going to Citidogs for nearly four years since he was a puppy and there's a bunch of things that make Citidogs brilliant:
1) The staff: all the staff are absolutely lovely, friendly and helpful, no matter how early you call them in a panic because you've got a last minute work shift and no-one else to take your dog.
2) The socialisation: Oran is so laid-back he's horizontal, but he's always had beautiful manners meeting all manner of other dogs and people when we're out together. I think a lot of that is his experience of fitting into his second family at Citidogs.
3) The flexibility: I'm constantly calling Citidogs because my work days have changed or something else is happening, and no matter what they have always managed to accommodate us. One less thing to worry about!
4) The love!: When Oran walks out of the door in the morning to the van, I know he will be as safe, happy and loved all day as he would be with me.
I wanted a dog all my life, but I knew that my work patterns meant I couldn't be home all day each day, and I didn't feel it would be fair. Citidogs have enabled me to have a dog for the first time and that is fantastic – I can't recommend them highly enough!"
Kate
---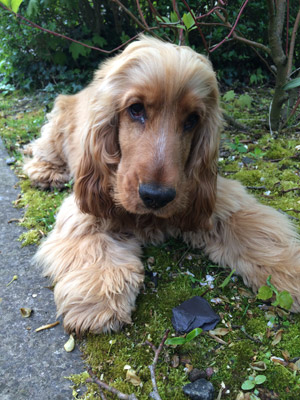 "In November 2014 our lives were changed forever when we decided to increase our family and get our little Cocker Spaniel pup, Orla. Our wee girl was an instant a source of love, companionship and laughter. However as she grew a little older and we started taking her out for walks we noticed that she was nervous around people and other dogs. I was anxious about her; she should be happy and live a full life and being petrified of everything around her would not accomplish that.
Clearly Orla needed to be socialised with other people and dogs and so the internet search for a solution began. Days later, having looked at several options, Citidogs Creche was the forerunner for looking after our little pup.
The web site was professional, friendly and clearly emphasised that the health and wellbeing of the pooches under their care was their top priority. I contacted them and very quickly we had arranged a date to go out and visit the crèche and for Orla to see her nursery. We have never regretted our choice. The facilities are fantastic but more importantly the staff are amazing. They are friendly, experienced and very nurturing.
We book Orla in (on average) three days a week with the crèche. The difference this has made to her, in terms of her happiness and confidence is significant. We can walk anywhere, introduce her to anyone and she is excited to make new friends – no anxiety at all. Orla clearly benefits from having other puppy friends and socialising in an exciting, positive and safe environment. In addition to the improvement in Orla's mental health she is given the benefit of lots of exercise. At the crèche the doggies will play and frolic for hours and in Orla's case she burns her energy (which I thought was limitless). We pick her up at the end of the day and have a happy, healthy and tired little puppy (a happy, healthy, and tired puppy means a very happy owner).
Of course it is not just Orla who benefits from the care that the crèche provides. Many owners fear their dogs will chew up the house or be restless while at home alone, perhaps barking and whining all day (in Orla's case she was showing signs of separation anxiety) but the crèche resolves this issue. Not only is Orla out of the house during the day, allowing us to rest easy while we are at work but at the end of her long day, Orla comes home and merely catches up on her beauty sleep.
We have also benefitted from the 'home care' and the 'Bark and Ride' (the school bus). We had our wedding day in April and this was going to be a very busy and hectic time for us. While I wanted Orla to attend the ceremony I was quickly advised (by my husband) that cleaning up after our wee 'waggy tail', in our wedding attire was not practical or desirable. All our friends and family would be with us on the day so I did not know who I could trust to keep Orla and look after her for the weekend. This would also be her first time away from us so I felt it was important she was going to be with someone who would look after properly and not neglect her. This was a source of anxiety for me but luckily the crèche provides home care. The staff was brilliant with Orla and with me. I was reassured that she would be well looked after, she would have lots of doggy company. I was sent photos of Orla's adventurous weekend – she was obviously having a great time. To be honest I don't think Orla missed us for when I collected her after that long weekend she was so content. It was obvious that I was the one who had suffered from the separation anxiety.
Ultimately I cannot express my relief and gratitude for the existence of Citidogs Creche and to the staff. For anyone in need of doggy day care do not spend days searching as I did. I promise that Citidogs will take great care of your four legged friend and they will ensure that they have a happy and fulfilled day at school."
Shona Kirk
---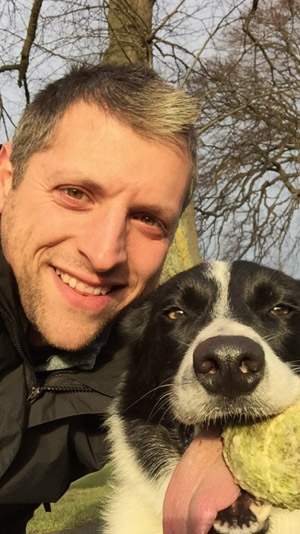 "Buzz our gorgeous 4 and a half year old Border Collie has been coming to Citidogs since he was 1 and there were only a couple of staff and 1 Bark and Ride.
Our job situations changed and Citidogs were actually recommended to us by someone we had met on a dog walk. I wasn't entirely sure of what they were offering so after a quick phone call it was suggested that we pop in and see the place first hand. We duly took them up on their offer and popped in after work 1 day to see lots of fabulous pooches running about in the open chasing balls and immediately signed Buzz up.
I have never looked back since and can highly recommend Citidogs to anyone who wants to send in an energetic dog and get back a tired one. Buzz now knows exactly where he is going and as soon as we turn down onto Woodhall Road he stands up in the boot and paces, wagging his tail and barking until the top gate is opened and the staff have said 'Good Morning Buzz'. We can't even say 'Citidogs' in our house without him heading to the front door.
The staff are fabulous and have looked after our Buzzy Boy so well. Every time we arrive to pick him up there is always a lovely welcome and a tale to be told, usually that Buzz hasn't dropped the ball all day. Our daughter loves to come with us to collect Buzz and occasionally we get to look in on the puppies too, I think they like to keep me away in case I run off with one. All in all, Citidogs are fabulous. They not only look after my furry baby just as I would like but they also take the time to get to know us and our wee family. I can't recommend them highly enough!"
Sarah R
---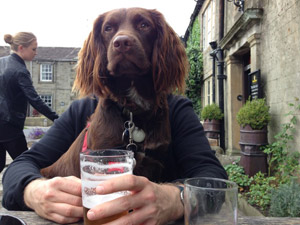 "Bernie has been going to Citidogs now for over 18 months, 3 days a week – and loves it!
He gets so excited when the door bell goes he does a little dance! Originally we hadn't considered doggy day care, we had planned our working hours around him and had a dog walker lined up during the day, but as a pup he developed separation anxiety and we had to look for alternatives. We haven't looked back since. We work from home two days and the other three he is playing with other dogs (great for socialisation) and getting lots of attention from the wonderful staff. His vet even commented on his excellent low heart-rate.
The other great thing is the 'Bark & Ride'. He is picked up in the morning by the lovely Findlay, which really makes our lives easier, and is dropped back around 4ish. We've also found that by having someone else leave him in the flat before we get home is helping his anxiety – that and he's too shattered from playing to care."
Sarah
---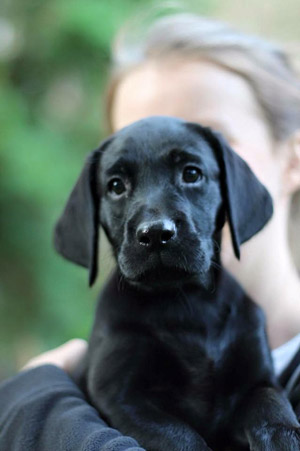 "Citidogs have been excellent in allowing us to manage having a puppy in our lives despite both working full time.
Their communication and professionalism has always been exemplary. Callie absolutely adores all the staff at Citidogs, and practically runs down the stairs in the morning to get on the Bark n' Ride bus with Hugh.
We had a particularly difficult time recently when Callie had to have an operation on her shoulder, necessitating 8 weeks of rest (not an easy task for any puppy).
Citidogs managed to keep Callie quiet and happy for 8 weeks – how they managed this I will never know, but I am eternally grateful. I can't recommend Citidogs enough!"
Zoe Cross
---
"Some feedback on our Citidogs experience…but to start at the beginning, we brought home ex-racing Greyhound Charlie 18 months ago when he was 4 years old. He'd never really been in a house before, never been away from other greyhounds and had NO CLUE about the concept of stairs. After a few days of Bambi-esque attempts, he got that sorted!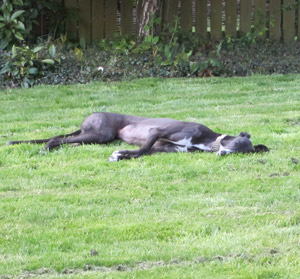 BUT what wasn't easily sorted was his separation anxiety. He could not be left alone even for the shortest time. I had never heard of separation anxiety even though we had previously had a Labrador from puppy-hood to old gent of fourteen. So….Charlie enrolled at Citidogs and what can I say…it's been a godsend – saved my sanity – given Charlie company of both the four and the two-legged variety – given him the chance to run free when he wants – gives him the chance to sleep when he wants (which is probably more often than the running to be honest…!). He trembles with excitement when Hugh collects him and he flops down for a l-o-n-g rest as soon as Jo brings him home – as the photos show!
So really I don't know how we would manage without Citidogs. There is no other place like it, it's a FANTASTIC facility with caring staff, and is real value for money too. So thank-you from Charlie and his family."
Erika Strachan
---
"My dog Bailey has been attending Citidogs since they opened their doors and Sandy, Sarah and the team are just fantastic.
Bailey attends 5 days a week and I really do feel that the team love and care for her which is so important to me. When Findlay picks her up in the Morning, I can hear him chatting to her as they leave. They seem to have a little Morning ritual which involves her doing some stretches at the door (doggy yoga) and Findlay is very patient with her and laughs at it each and every time – it's so great to know that she clearly has a bond with him. Even my neighbours comment on how lovely he is to her. It's something that seems to really run through the culture of Citidogs and everyone I've met really does seem to care. Notes are set home from Lynn, Julie and the team when Bailey has a sniffle or anything else they've spotted – again, this just shows the level of care they give to the dogs as they go the extra mile for them.
I can't praise Citidogs highly enough. They give me the peace of mind to know Bailey has the best care possible when she's not with me. She comes home every night a very happy and contented wee pup."
Arleen and Bailey
---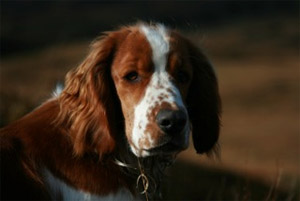 "Barney celebrated his 4th doggie birthday today and has been happily trotting off to Citidogs since he was a small puppy of 12 weeks old.
Since the morning he went to the Bark and Ride and jumped into the van without a backward glance we knew he was in good hands! He comes home every day tired and ready for his dinner after a busy day with his doggie pals.
Citidogs have always been extremely helpful when Barney has needed special care and looking after following vet procedures and his various accidents, although keeping him quiet has I am sure been a challenge.
We've been delighted with the service provided by Citidogs over the past four years and Barney is looking forward to many more years of fun and frolics!"
Alex and Barney
---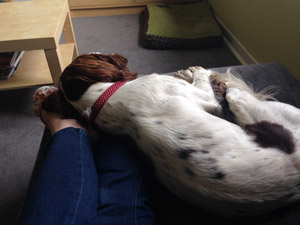 "Molly loves her days at SKOol.
When we pull up next to the sKOol bus she is straight out of the car and into the back of the van without a backwards glance!
Whatever mischief she gets up to when she is there must be good as we always come home to a happy and sleepy pooch.
All of the staff are fantastic and have always been able to fit with our schedule and are caring and attentive with Molly."
Luke